About: Lar
Entertainment photographer and concert reviewer.
Recent Posts by Lar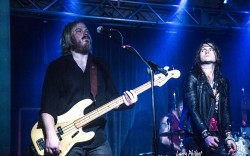 [gallery ids="832,831,830,827,828,829,826,825"]...
More
Nobody does anything important without a lot of luck and the help of a lot of people.  Certainly I am grateful to my family and friends for their support and encouragement, and I list them first, but I don't think any of this would be possible without the people surrounding John Mellencamp.  Tony Buechler, who took a chance and overlooked one totally blown concert gig and still gave me access, Sharon Carone,  for a huge break at my first Farm Aid, and a concert for the Biography Channel. 
Paul Natkin, a legendary music photographer and friend of Henry Diltz and Jim Marshall, who gave me advice and mentoring, and allowed me to shoot entire performances all day for many Farm Aid concerts over the years, and got front row seats for my wife and me in Chicago for Million Dollar Quartet.

WTTS Radio: Brad Holtz and especially Johnette Cruz Harvey, Andy Wilson, who is the King of PR in Indianapolis and beyond, who can grant access with a wave of his hand.  Steve Gerardi, who has his fingerprints all over entertainment since Indiana was just a cornfield with a racetrack.  Susan Kreiner, Olenka Wojtowicz and Kyle Johnson, Kimmy Adamson, and Stephanie McGuire from Live Nation.   Adam Kallick and Grant Scharton from Hoosier Park. I owe you all.

Thank you.
This site is just a miniscule sample of my work over the last few years, and while I need to do a lot more, it is functional.  You may notice that there are no images in the "portrait" mode, and that's something I'm working on.  This "theme template" does not allow for portrait oriented images, so I will either have it modified or get a new template and start all over.  As you can imagine, the latter option is something I'm trying to avoid.
Once this decision is made, I intend to update this site often, and add more images as they're taken so I invite you to please check back.  Thank you for stopping by.